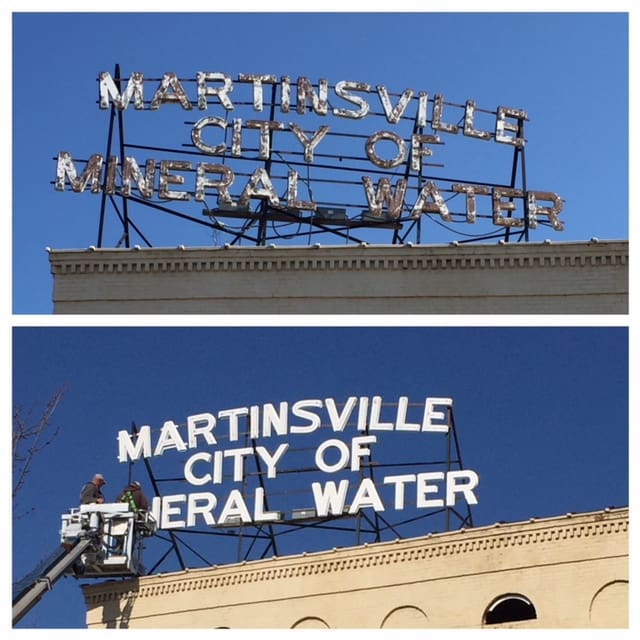 Craig and Mary Fenneman, new owners of the Union Block building at 10 E. Morgan St., have contracted with a sign specialist to renovate the iconic City of Mineral Water sign.  What a transformation! The original steel letters were wire-brushed and cleaned before the application of three coats of paint.  The framework will be cleaned and painted black and LED lighting has been added.  Check back for details on a lighting celebration, coming soon!
Did you know?
Courtesy of Joanne Stuttgen
How old is the Martinsville City of Mineral Water sign?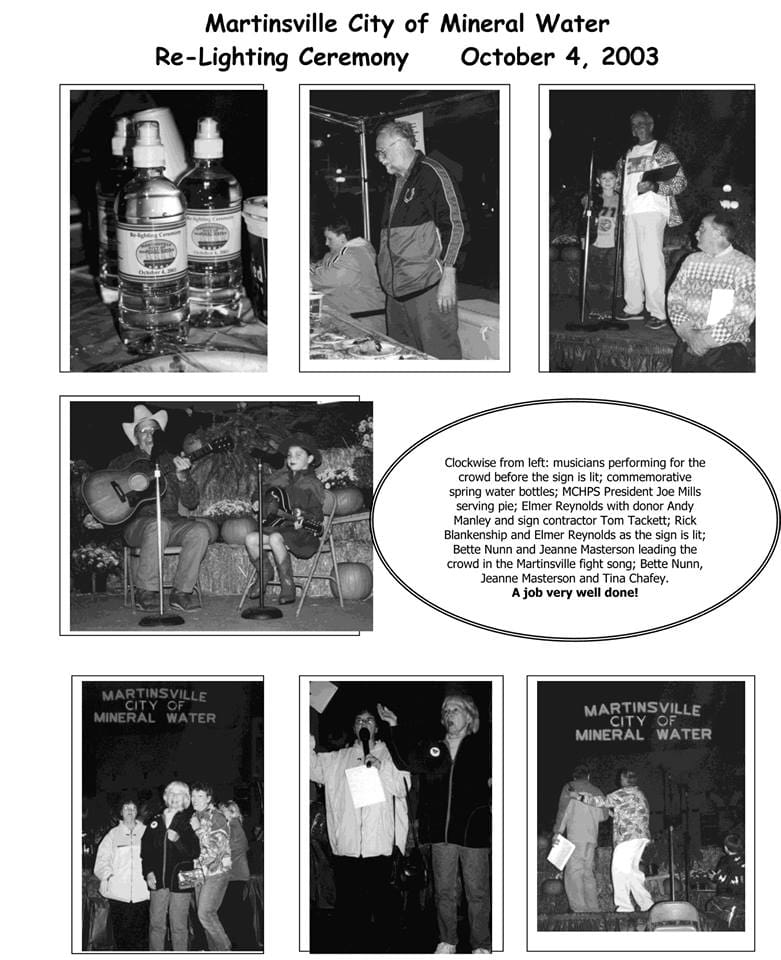 Prior to its relighting on October 4, 2003, I researched the sign but could not come up with the date it was erected. I've since narrowed the time period to between the last half of 1929 and 1938. The sign does not appear in a photo of a G. A. R. parade taken in June 1929. The letters were made by Martinsville tinsmith W. R. Davis, who died in 1938. So, we have a roughly 9-year window of time in which the sign appeared. The only way to narrow the gap—and ideally to find the very date—is to scroll through nine years of microfilmed daily newspapers. I intend to do this this winter.
In 2003, Margaret Sedwick, who died in 2007 when she was nearly 100, and whose memory was seemingly infallible, told me she believed the sign was connected to one of the 3 state basketball championships won by Martinsville (1924, 1927, 1933). Margaret believed the sign was made because "the team was the Artesians" and thought it was "backed" by sanitarium owners. Because the first two championships occurred prior to the 9-year time period, I focused on the 1933 championship. I searched the 1933 newspaper and found nothing at all about the sign.
Margaret recalled that the sign glowed like electric lights, "like it was white". She described the lights as "floodlight-type bulbs." She remembered driving into Martinsville, up Main Street from the south, and seeing the sign through the trees. "I always thought it was light bulbs on a frame," she said. This puzzles me because the letters as they appear through a telephoto lens appear to have been made to receive neon tubes, not incandescent light bulbs. The non tubes are now being replaced with LED.
According to Margaret, the sign "was supposed to have" blown down once and been put back up. She also remembered that when Charles Buskirk operated an appliance store in the building (1953-1979), he disconnected the sign because it interfered with televisions and appliances. This may have been in the 1960s, according to Elmer Reynolds in a 2002 newspaper article. The sign was operational for a short time in the 1980s until damaged by vandals. It remained dark until October 4, 2003, and went dark again within about six months.