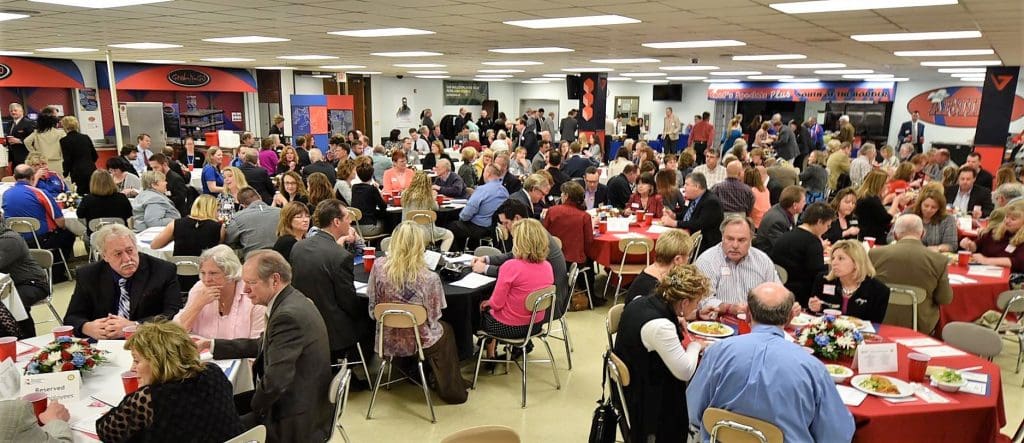 Please join co-hosts Martinsville Rotary Club and the Greater Martinsville Chamber of Commerce, for the 2019 State of the City Dinner. This prestigious event is held annually in the spring to honor the City of Martinsville and the many individuals, businesses and organizations that contribute to the economic growth and development of our community. Outstanding Business, Outstand Business Professional and Ruth Rusie Spirit of Service awards will be presented and Mayor Shannon Kohl will present the State of the City address.
This year's event is Tuesday, March 12th at the Martinsville High School Cafeteria, with the social hour beginning at 5:30 pm and dinner at 6:30 pm. Lisa James, Heavenly Helpings, will be providing a delicious dinner and as in the past, there will be a silent auction with a wonderful variety of donated items. This is a great opportunity to network with local business and community leaders and to learn more about all the good things happening in Martinsville.
Sponsorships of various levels are available to help support the activities of the Martinsville Rotary and Chamber of Commerce, as well as to provide a contribution to the Mayor's choice of charitable organization, the Barbara B. Jordan YMCA. We are also seeking donations of silent auction items for the event. Your contribution would be greatly appreciated!
Take advantage of sponsorship opportunities

Nominate someone for Outstanding Business Professional, Outstanding Business, or Ruth Rusie Spirit of Service award.
or at the Chamber office – 765.342.8110