The State of the City Dinner is held annually in the spring to honor the City of Martinsville and the many individuals, businesses, and organizations that contribute to the economic growth and development of our community. Along with Mayor Kenny Costin's interview, the Outstanding Business, Outstanding Business Professional, and Ruth Rusie Spirit of Service awards were presented by Chamber board chair, Darcy Quakenbush. What an impressive trio, all three are very deserving of their respective awards!*
*All photos courtesy of Mike Washington, MWPImages
A Senior Retreat, Adult Day Services – Outstanding Business
The Outstanding Business Award recognizes businesses in or around the city of Martinsville for noteworthy accomplishments, long-standing contributions to the community, and significant community service efforts.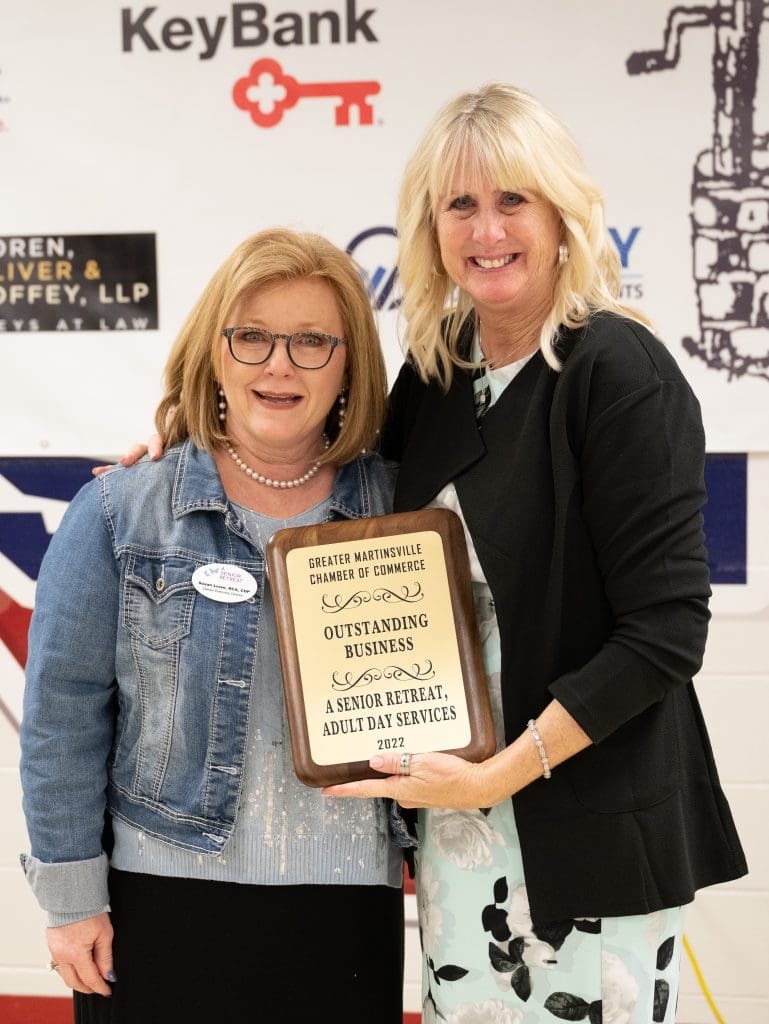 "This locally-owned and operated business is a vital asset to families in the Martinsville community, as they provide a safe and stimulating environment for seniors unable to stay at home alone through the day while also providing peace of mind for their family members during the work day.

This business has been awarded several grants that have allowed them to grow and prosper, even expanding its business model into new communities. The staff is active in the community and the chamber and the owner has worked to create memorable and enriching opportunities for their clients. One of the most impressive of these experiences is partnering with a local preschool program to bring together different generations to learn from one another and enrich one another's lives.
A Senior Retreat is such a valuable service to the community as a whole, and to the individual families it serves, and is very deserving of this recognition.
Congratulations to Susan Lowe, Owner & CEO, A Senior Retreat, Adult Day Services!
---
Mack Porter, Outstanding Business Professional
This award recognizes a businessman or woman who demonstrates outstanding achievement and excellence in his/her business or profession, as well as business, social, and community involvement.
As the mayor's executive assistant, Mack is most often the first impression for anyone doing business with the city or meeting with the mayor and he goes above and beyond to make sure that he represents the city in the best possible way. Anyone who knows Mack knows that he is very organized, and he responds to voicemails and emails quickly and efficiently, setting a professional tone for the office.
Mack volunteers to take on roles beyond his job description, expanding the capacity of the city's administration. By attending various organizations' meetings on behalf of the city, he ensures that the administration is engaged even at those times when the mayor is representing us at regional meetings and events. He is a visible and knowledgeable connector, keeping the lines of communication between community organizations and the mayor's office open to benefit our community.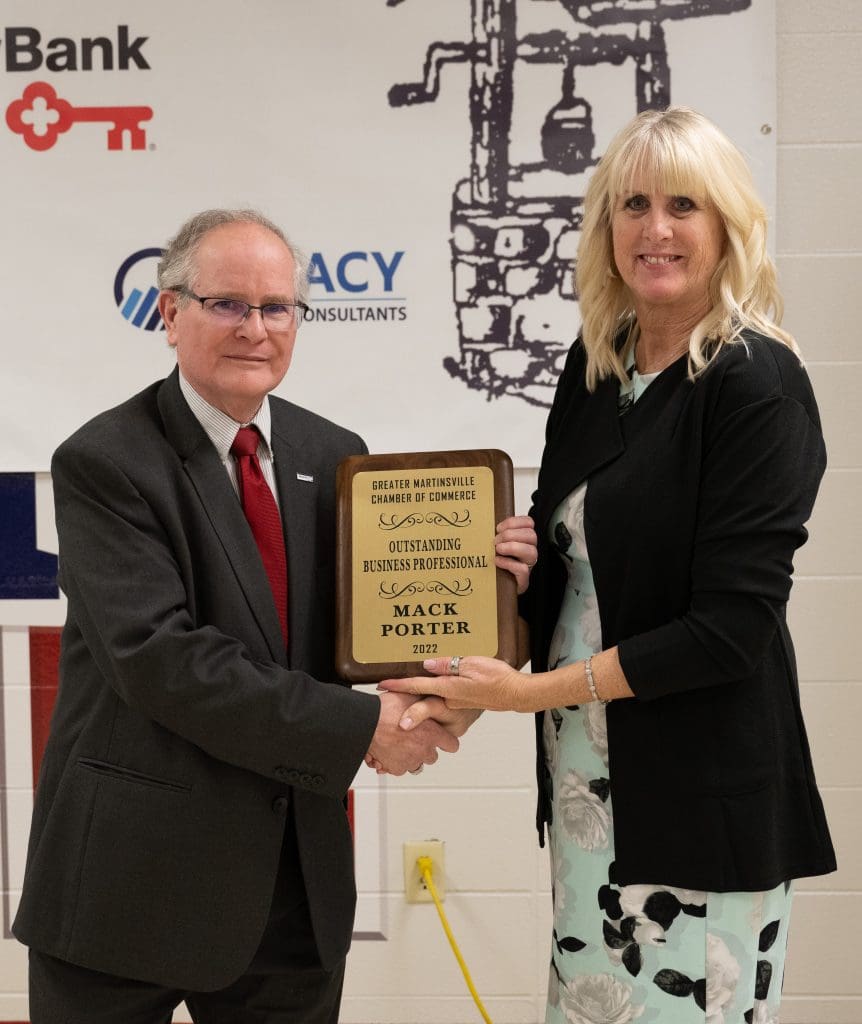 Did you know that Mack has become a resident expert on skateboard parks? When community members, including youth, came to the city asking that serious consideration be given to finding a way to build a skateboard park, the mayor and council members agreed that a task force should be formed to explore the options. As the mayor's liaison to the task force, Mack didn't waste any time and quickly went to work researching the pros and cons of building and maintaining a skate park. He initiated a conversation with the Tony Hawk Foundation and traveled to at least a dozen parks throughout the state, bringing back photos and answers to some of the questions posed by other task force members. He developed a real passion for the project and the fact that the city could do its part in bringing an activity for youth to the community. It is in large part due to Mack's efforts that the skateboard park plans are progressing and it will become a reality in the next couple of years.
Congratulations to Mack Porter, Outstanding Business Professional!
---
Judy Bucci, Recipient of Ruth Rusie Spirit of Service Award
This coveted award recognizes an individual for outstanding contributions in the way of volunteering, giving, fundraising, mentoring, or caring in the community. The Ruth Rusie Spirit of Service award is named for Ruth Rusie of Martinsville, IN for her inspiring volunteer achievements and outstanding commitment to community service.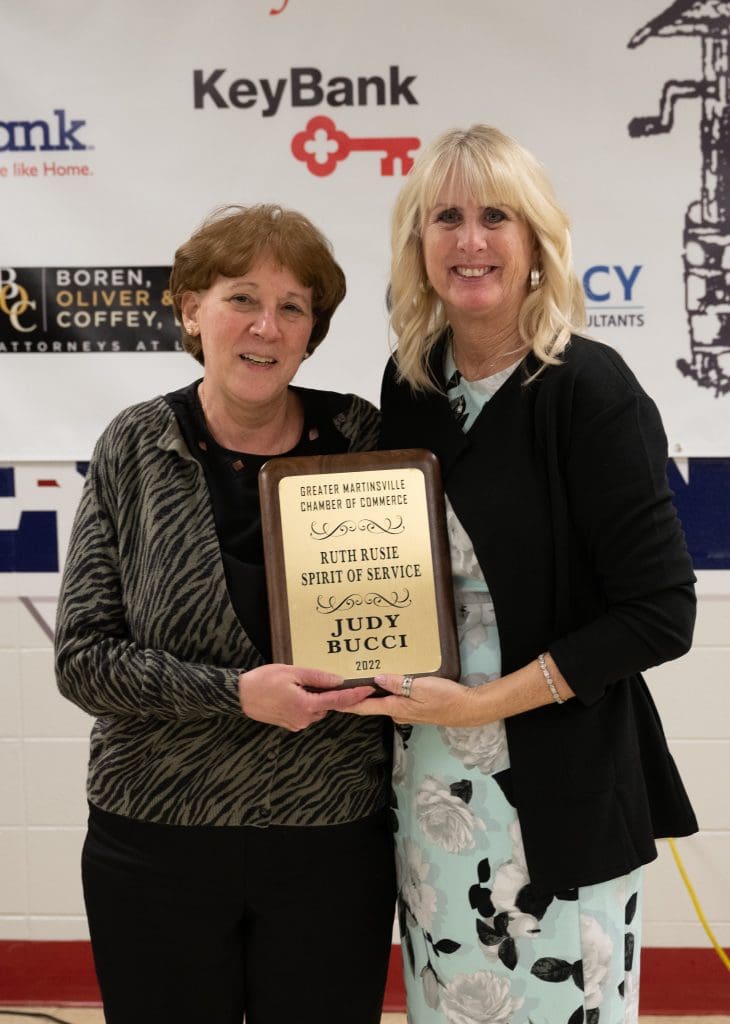 This year's recipient of the Ruth Rusie Spirit of Service Award is not only very deserving but was a close friend of Ruth Rusie's, working with Ruth on many initiatives over the years, including the Martinsville Arts Council and the Morgan County Coalition for Literacy.
Judy Bucci is servant leadership personified. For the nearly 30 years she has lived here in Morgan County, she has epitomized this award by serving numerous community organizations in many ways. She has a heart for making others successful. Her servant style leadership has permanently elevated the impact of every organization she has assisted and made Morgan County a better place to live.
Retiring from the YMCA did not lessen her engagement in the community. She continued to demonstrate her commitment by passionately giving incredible amounts of her time and energy to bringing people together to meet the needs of others. She is dedicated to her church, serving as treasurer, youth teacher, and outreach team member. Her efforts with Rotary, serving in various leadership positions, including Community Service Chairman, as well as her involvement with the Arts Council, MCSAC, and other endeavors have made her an invaluable Morgan County asset.
Over the past 7 years, her compassion for the less fortunate has drawn her into the vital work of Stability First. Here I have witnessed firsthand her real concern for the women served by the Magdalene House. Her empathy is seen in the personal and ongoing encouragement she gives to the residents, past and present, as well as in the sensitivity she shows in telling their stories in the newsletters and Facebook posts. She is always looking for ways to bring hope and confidence to others.
Another key quality Judy demonstrates is her ability to build community. She is an excellent networker. Between the agencies she serves, she is often the one making the connections and encouraging collaboration. It is effective because she is loved, respected, and admired by her peers for her work ethic, modesty, passion, and devotion.
In all of her service, she is known for carrying out her assigned responsibilities with excellence. She puts in tremendous amounts of time making sure that there is quality in every communication produced, and as a result, she is very fruitful in her efforts. As a board member, she is respected for bringing wisdom and insight into every discussion and decision made. She is sought out by me and others for a mature and balanced perspective. Her faith informs not only her activity but also the attitude that she serves with. She not only understands leadership as servanthood, but she also lives it out. Being concerned for others and doing something about it is descriptive of her paradigm and her passion.
Judy has always had the same tireless commitment to lifting others up. She is an incredibly humble person and very deserving of the recognition she would never seek on her own.