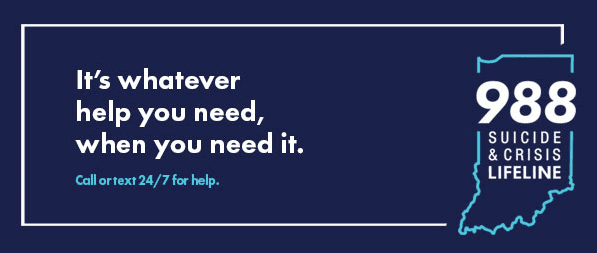 Last year, the 988 Suicide & Crisis Lifeline was launched nationwide as a resource for those experiencing crisis. Today, Indiana Family and Social Services Administration's Division of Mental Health and Addiction is taking a significant step to spread awareness about 988.

We are happy to share that we have launched a campaign to raise awareness about 988. This campaign will educate Hoosiers on the services provided by 988 and encourage those experiencing a crisis to call the lifeline.

What is a crisis? A crisis may be something you experience so often that you do not even think it's a crisis. It could appear as anxiety about money, a stressful relationship, or concerns about a loved one's mental health. This resource is available 24/7 for those experiencing emotional distress, thoughts of suicide, and mental health or substance use crisis.

You may have already seen branded outdoor and digital advertising around the state. This is the first phase of many that will be implemented to increase awareness about this vital resource.

Community outreach is key to building awareness for 988 and allows each of us the ability to ensure our fellow Hoosiers know they are safe and can get whatever help they need when they need it. We need your valuable support in this effort as an essential economic organization in Indiana by helping us spread the message about Indiana's 988 Suicide & Crisis Lifeline among your organization's stakeholders, members, and connections.

We encourage you to visit the 988 Indiana website and access the resource toolkit for a collection of promotional tools to help spread awareness for the lifeline. Please check the website often, as additional assets will be added to further our mission of informing Indiana about 988.

Raising awareness about the 988 Suicide & Crisis Lifeline is the best way to support Hoosiers experiencing suicidal or mental health-related distress in reaching this free, confidential service.

Thank you for your support!

Interested in receiving more information or connecting with the 988 Indiana team? Please contact info@988indiana.org.