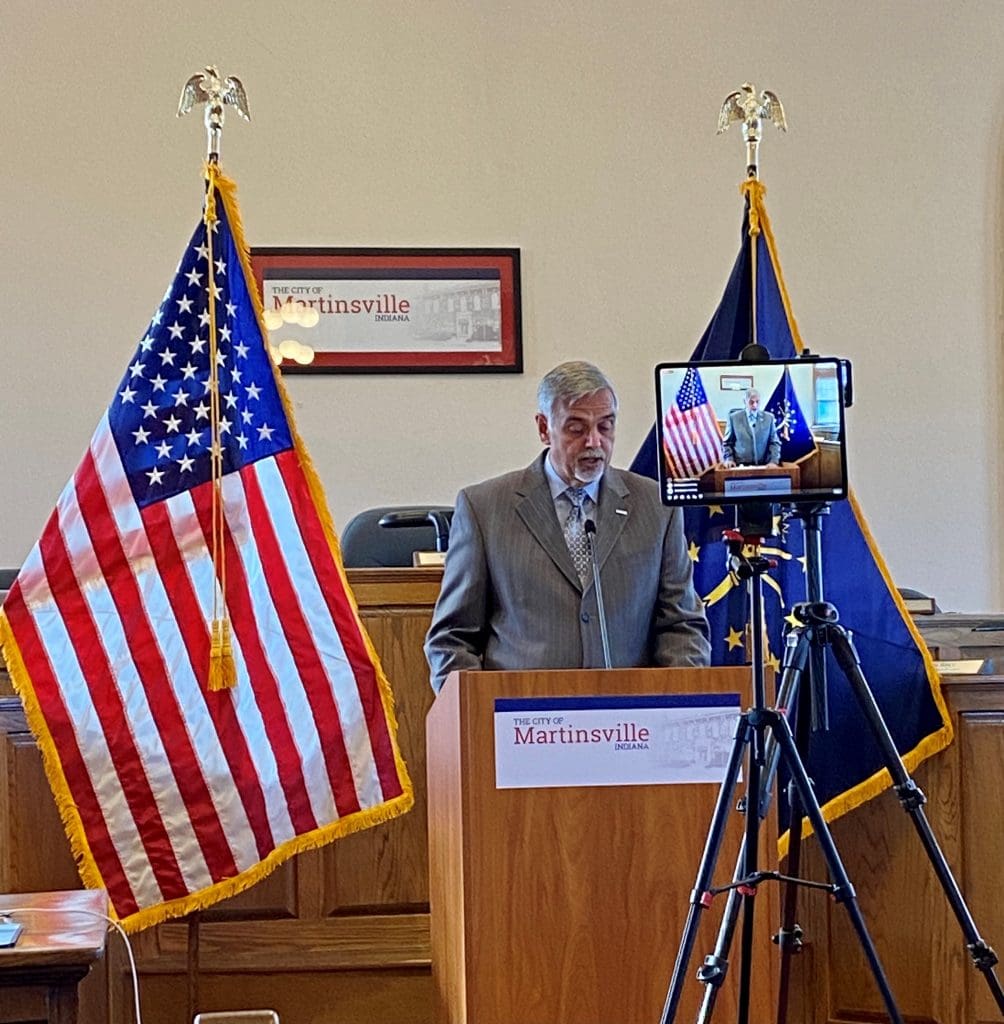 MARTINSVILLE – Mayor Kenny Costin announced today that the City of Martinsville has been awarded a $20,191,500 grant from the Indiana Finance Authority (IFA) for the exclusive use to construct a new levee and make improvements to the existing levee to the north. This new levee will run along the west and southwest side of the city.
Mayor Costin stated, "When this administration took office, we were faced with the knowledge that FEMA was mandating to the city that the levee system must be improved.  We also recognized that without the changes, as many as 400 of our residents and at least 70 businesses would be faced with purchasing or upgrading their flood insurance."
This levee system is needed to replace the current levee on which the State Road 39 By-Pass is located.  This new levee will provide greater protection for the citizens of Martinsville for many years to come.  It may also help us attract additional economic developments to the city.
"The magnitude of the project is difficult to grasp," said Costin.  Over 162,000 cubic yards of materials will be used to construct the southern levee.  There will also be significant upgrades to the northern levee, including new flood gates.  A new pumping station will also be constructed as part of this levee system.
The mayor went on to say, "We believe this is the largest grant that the city has received in its history. Again, these funds are earmarked exclusively for the building of this levee system. These dollars are from the $60 million of federal Coronavirus State and Local Fiscal Recovery Funds to the IFA that provide grants to utilities and/or communities for stormwater/flooding projects that impact State Roads in their local communities."
The planning and engineering phases of the project have already begun. As the award has just been announced, no actual start or completion dates for the project have been established. We will continue to keep the public informed as we move through the process.
The mayor went on to say, "We cannot stress enough how important this project is to the City of Martinsville, its citizens, and our future growth. I want to again thank the tireless efforts of this administration for their hard work on this matter. We also want to thank Senator Rod Bray; Senator Ryan Mishler, Representative Peggy Mayfield; the staff at IFA, and our Director of Planning and Engineering Gary Oakes. Without their assistance, this grant would not have been possible."