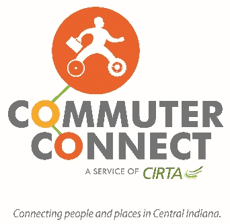 We want to be your transportation resource!
During the month of September, Commuter Connect has a great promotion going on. Everyone who registers with Commuter Connect from 9/1—9/30 will automatically be entered into a drawing for a chance to win great prizes.
Commuter Connect is your FREE resource to learn all about going car-free or car-lite by telecommuting, carpooling, vanpooling, riding transit, biking, or walking. We want to help you utilize all transportation options available.
Check out our website, CommuterConnect.US , to see how we can benefit you and your employees. Register for any service, or refer a friend to sign-up and be automatically entered to win a $500 VISA Gift Card and other great prizes.  Please help us continue the trend of less traffic and improved air quality in Central Indiana!
Contact Community Outreach Representative Lisa Bailey for more information lbailey@cirta.us
Commuter Connect, Car-Free Day Every Day! CommuterConnect.US