Deb Verley Receives Statewide Award
The Indiana Association of County Commissioner (IACC) is pleased to announce that Morgan County Executive Assistant Deb Verley was selected IACC's "2021 Outstanding Supportive County Administrator of the Year."   The award is in recognition of the outstanding strengths that she demonstrates to assist her County Commissioners to better serve local government and the public.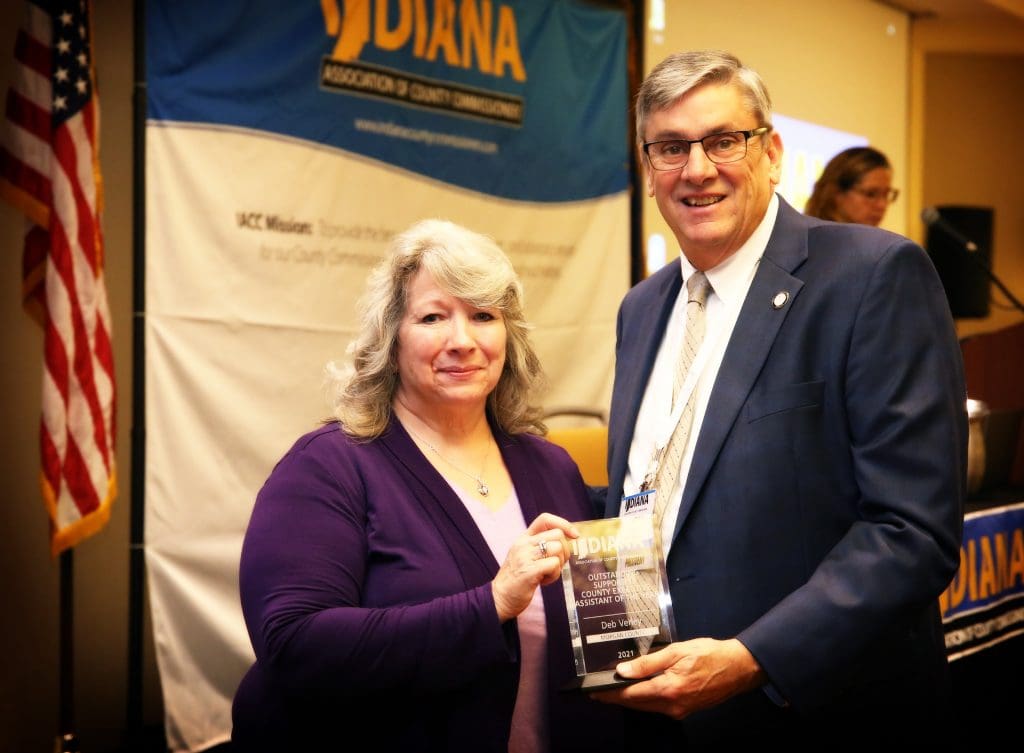 Verley has served her county in this important capacity since 2004, she has served as an integral partner in numerous projects in the nearly 2 decades she has served.
Her nomination stated that "She has been the "glue" holding the office together, as new commissioners come, and older ones go, she has been a constant face for our office. She is courteous, knowledgeable, highly organized, productive, anticipates the needs of others, and is simply there with what is needed when it is needed. She is very informed…never pushy and in all ways and circumstances, kind and considerate… even with the most undeserving and unappreciative. She simply makes the service more enjoyable for our entire administrative office.
Verley is an active and welcome participant in bi-monthly meetings with all department heads. She continues to serve as Secretary for several county boards such as our Regional Sewer Board and our Economic Development Commission, where the latest project was the much-needed construction of a wastewater treatment plant.
In 2019-2020 the commissioners created and hired the two new positions of County Administrator and HR Director. She was the sounding board for the establishment of changes in the management of the office. These changes have led to a newer more efficient style of leadership management. She embraced with vision bringing new roles into the office so that they could better support other county offices. This move meant a tremendous amount of change for her. These changes have had a very positive impact on the county and its future. Others may have resisted this amount of change, saw it as a threat, or perhaps not accommodated or championed it gracefully. She did exactly the opposite. She saw how good this was for the future of their county and openly embraced these changes, not only in accepting and welcoming new people and new roles into our office but by going above and beyond in advocating and supporting this new way of doing business. "She perfectly embodies the best of our past, and the optimism of our future, and we could not have successfully done this without her support and involvement," said her nomination.
The achievement award was presented during the IACC's 2021 Annual Conference, the largest gathering of County Commissioners in the state. The three-day conference included several different workshops and breakout sessions that were designed specifically for county commissioners and their support staff. Verley and others attended several training workshops concerning county-related topics focusing on, American Rescue Plan Act Funding, 2022 Legislative Priorities, "How to tell your Story," Open Door Laws, Mental Health and Addiction Strategies, Cyber Security, Road Funding, and more in their training sessions.
Indiana's 52nd LieutenantGovernor, Suzanne Crouch was the Keynote speaker for the conference. She spoke on current issues related to local government, expanding broadband through Next Level Connections Broadband Grants, Improving Housing needs, revitalizing travel and tourism, supporting Hoosier farmers, and improving mental health and addiction programs to reduce jail overcrowding in many Indiana counties. Crouch has been a long-time partner of the IACC and is committed to improving the lives of all Hoosiers.
State Senator Rodric Bray, leader of the Indiana Senate as the President Pro Tempore, and Representative Greg Steuerwald, Majority House Caucus Chair addressed attendees as well during their Legislative Update.
The Indiana Association of County Commissioners is a nonprofit organization established to provide the best education, leadership support, and advocacy services for our County Commissioners to strengthen their influence throughout Indiana. The objectives of the Association are: to promote cooperation of the county unit with all other units of local government, (cities, towns, township, etc.) and with state and federal agencies; and to promote improvement and efficiency in the delivery of county government services. The various functions of the IACC include serving as a liaison among counties, state and federal agencies, lobbying the Indiana General Assembly on behalf of County Commissioners, as well as providing technical assistance and training to county commissioners and support staff.