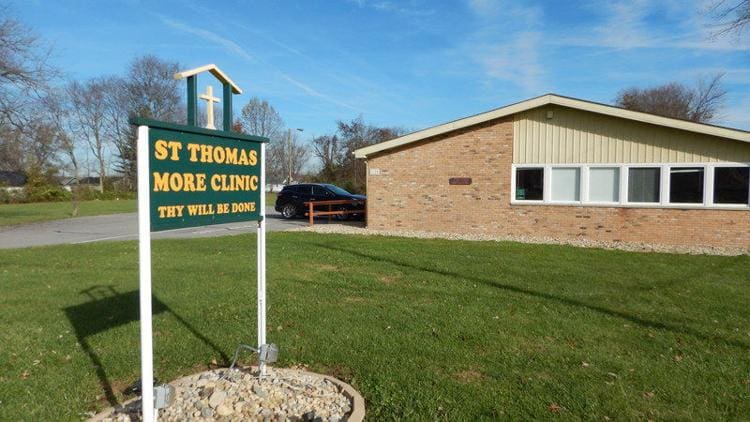 Do you have employees who have no health insurance and need healthcare? St. Thomas More Free Clinic may be able to help them.
We would like to introduce you, the members of the Martinsville Chamber of Commerce, to the St. Thomas More Free Clinic. The clinic has been in operation since June 2005. The clinic serves residents of Morgan County who have no health insurance, no Medicare, no Medicaid, and meet financial guidelines of being at the 150th percentile of poverty which is about $35,000.00 for a family of 2 or $49,000.00 for a family of 4.                                                                                            
  The clinic provides both medical and dental care. Care is provided by healthcare volunteers who donate their time to clinic operations. Clinic volunteers include doctors, nurse practitioners, nurses, social workers, medical assistants, office staff, pharmacists, dentists, dental hygienists, and other support volunteers.
  We work with our patients to take care of their immediate health issues, and then help them to stay healthy by seeing them on a regular basis and providing medication, equipment, and education to keep them in a healthy state. We provide diabetic patients with glucose monitors and supplies.
Our clinic is supported by organizations, churches and generous people who want to help those around us who need it the most. Patients are therefore not charged for a clinic visit.
We see patients by appointment on the 1st and 3rd Saturday mornings at 1125 North Indiana Street in Mooresville. A Medical Assistant is available at the clinic Monday, Wednesday and Friday from 11:30 to 2:30 p.m. to take phone calls and make appointments. You can contact the St. Thomas More Free Clinic at 317-831-1697.
Chamber Members, we are hopeful you have found this information helpful to you and your business. We hope you will consider providing this information to any of your Morgan County employees who have no healthcare insurance and are in need of healthcare.
We look forward to working with you and other Chamber Members.
  Shelley and Ted Voelz, Clinic Co-Directors
St. Thomas More Free Clinic
1125 N. Indiana St.
Mooresville, In 46158
317.831.1697