Recently, the Martinsville Chamber's Business & Community Development Team partnered with title sponsor, Duke Energy, along with Ivy Tech Community College and the MSD of Martinsville, to hold a business pitch contest for the youth of our community. Local students were encouraged to share their business ideas with us through a simple application process and business mentors were recruited to assist the students in preparing for the actual contest.
The Chamber and Launch Martinsville hosted a practice session held for the applicants, where local mentors met with each of the students and helped them with a particular aspect of their pitch. We were excited about the variety of innovative ideas and the enthusiasm demonstrated by the youth and their mentors.
Parents and supporters of the contestants attended the Duke it Out Contest, held in the South Central Indiana REMC Community Room. Maura Giles, Chair of the Martinsville Chamber Board of Directors, welcomed everyone and Steve Bryant, Regional Director of the South Central Small Business Development Center and Executive Director of the Gayle & Bill Cook Center for Entrepreneurship at Ivy Tech Community College-Bloomington, acted as MC for the evening.
Our judges for this first annual pitch contest were Bruce Calloway – Manager Government & Community Relations, Duke Energy, Connie Musgrave – owner, 21 North, and Mike Garard – owner, Aggregate Manufacturing International. Each student had three minutes to make their pitch, followed by up to five minutes of questioning by the judges.
Spencer Stephens accepts first-place prize from Maura Giles (L) & Bruce Calloway (R)

Spencer Stephens, MHS
Spencer Stephens, a sophomore at Martinsville High School, won the top prize ($250) for his business Stephens Social, a digital marketing company. Spencer had already acquired two customers and had a comprehensive understanding of what it would take to run a business. He had a firm grasp on the specifics of the audience he would be marketing to and was personable and comfortable in his sales approach.
Garnering second place and a prize of $100 was John R. Wooden Middle School 8th grader, Jeremy Green. Jeremy proposed an "around the world" cafe of sorts, featuring multiple ethnic foods, with dining rooms decorated to coordinate with each particular ethnicity. His idea was a hit with the judges and audience alike and Jeremy is well on his way toward his goal of opening his restaurant after graduation from college.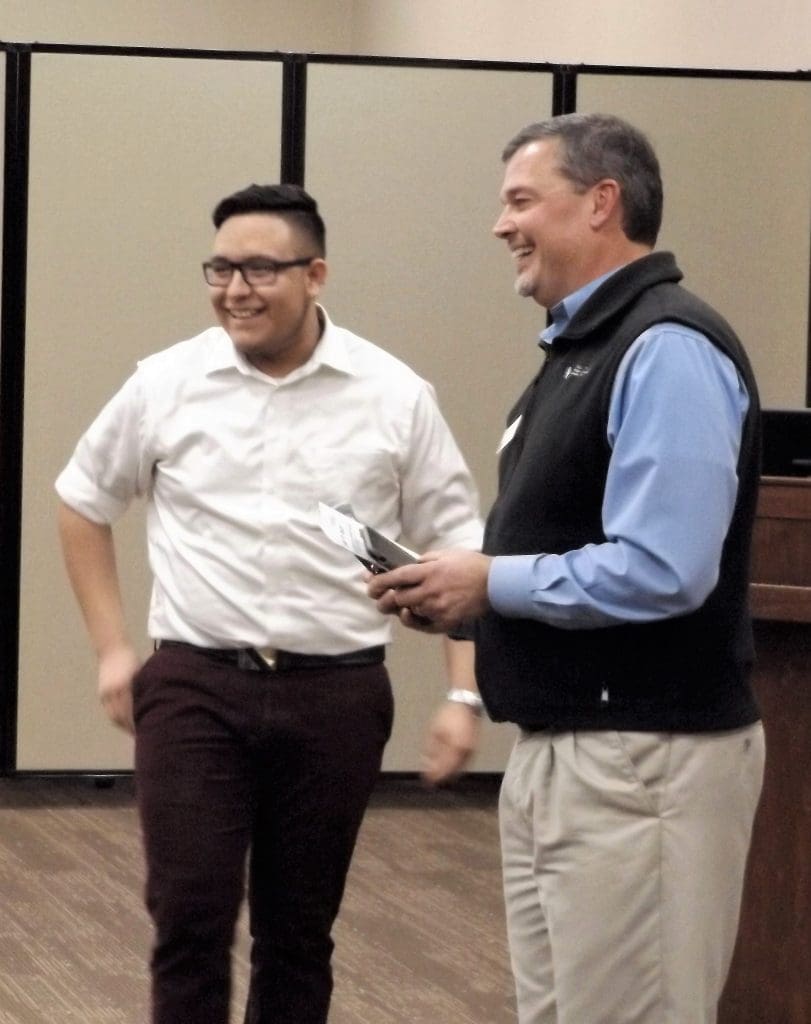 Acxel Napoles (L) answers questions from the judges, while Steve Bryant, MC, looks on.
Martinsville High School senior, Acxel Napoles, took home the third-place prize of $5o with his idea of working with local farmers and retailers to offer goods at a significant discount. His target audience would be families with lower incomes. Acxel has made progress since the contest and has acquired a semi-truck to transport the goods. He is on the lookout now for a storefront to house the store.
Kudos to Elliott Crabb (MHS) and J.T. Poore (JRWMS) for great presentations and ideas! We hope to hear from them again next year. Shelby Yount (JRWMS) also had an excellent idea but was unable to compete due to illness the day of the event.
Thank you to our mentors who gave generously of their time to coach these students on different aspects of their presentation!
Nick Agresta – Agresta, Storms & O'Leary PC
Antonella Barker – Gayle & Bill Cook Center for Entrepreneurship
Terri Brown – Central Indiana Small Business Development Center
Steve Bryant – Gayle & Bill Cook Center for Entrepreneurship
Maura Giles – South Central Indiana REMC
Jack Klemeyer – Certified John Maxwell Coach, Grow Your Business Coaching
Dakota Scheu – The Nice Law Firm
Jason Scott – JacksonEve GDS
Darla Spina – FC Tucker Realty
Jerry Waldon – Waldon IT Solutions
The Martinsville Chamber Business & Community Development Team are responsible for working with all of our partners to make this event a success. Thank you to Chris Beil, Chair, and her team: Bob Elliott, Maura Giles, Susan Helton-Groce, Jennifer Isbell Scott, Aimee L. Ketterer, Dr. Michele Moore, Pamela Siddons, Darla Spina, Jamie Taylor, Dr. Terry Terhune, and Jerry Waldon.