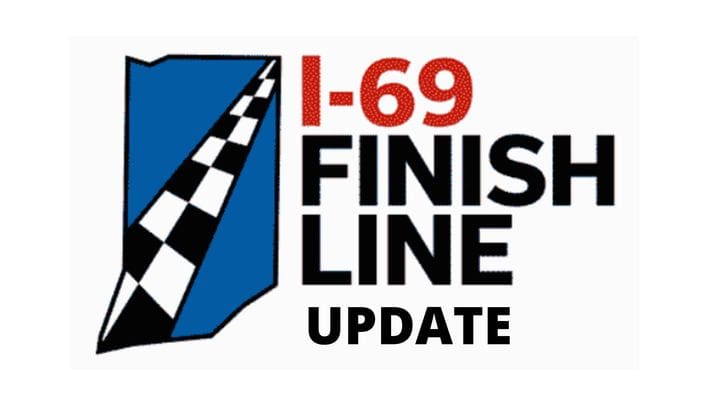 I-69 Finish Line Look Ahead – June 4, 2021
Martinsville
SR 37 between SR 39/Morton Avenue and Morgan Street is closed to north-south traffic. The detour follows SR 39, SR 67 and SR 144. Grand Valley Blvd., Burton Lane, Ohio Street and SR 252 remain open for access across SR 37.
Rueben Drive is closed west of SR 37 past Kristi Road. Existing SR 37 pavement is being used to provide a temporary connection for SR 44 to SR 252/Hospital Drive. This closure will remain in place until later this year.

Concrete for the Indian Creek bridge deck is expected to be poured on or after Wednesday evening. Delivery truck traffic will increase in the area from midnight through mid-morning.

Southview Drive is closed between the Williamsburg Apartments and Mahalasville Road through mid-June.
In 1-2 weeks, eastbound traffic on SR 252 west of Cramertown Loop will use new temporary lanes.
In 2-3 weeks, Ohio Street traffic will shift to its permanent alignment.
Northern Morgan County
SR 37 from Morgan Street to SR 144 is restricted to one travel lane in each direction. Watch for trucks exiting and entering southbound SR 37 as paving continues.
Teeters Road (east approach), Ozark Fisheries Drive, and Myra Lane (east approach) are right-in, right-out intersections. Myra Lane (west approach) is closed.
Ennis Road access to SR 37 is closed. The intersection is barricaded but available for emergency access only.
On SR 37 between the Crooked Creek bridge and Big Bend Road there is an emergency crossover available for emergency use only. There are barricades that will need to be moved.
Huggin Hollow Road north of Banta Road is scheduled to open on or after June 4. Banta Road between Huggin Hollow Road and SR 37 will close for the paving of southbound I-69. Banta Road will re-open once paving is completed.
Rolling stops for SR 37 traffic could occur between 9 a.m. and 4 p.m.
Johnson County
There will be nighttime lane restrictions on northbound SR 37 from Fairview Road to County Line Road between 9 p.m. and 6 a.m.
There will be daytime lane restrictions on northbound and southbound SR 37 near Olive Branch Road.
Lane shifts are in place in the SR 37 northbound and southbound lanes between Fairview Road and SR 144. An 11-foot width limit is in effect for the lane-shifted areas.
At Stones Crossing Road the southbound left turn movement is closed and the west approach is closed. The SR 37 northbound right turn lane into Stones Crossing has been removed, but access is open.
Travis Road access to SR 37 is closed.
Marion County 
Watch for flaggers and increasing construction traffic entering and exiting at Wicker Road just west of SR 37. Access road construction west of Glenns Valley United Methodist church is ongoing.
Drivers should stay alert for flaggers on Carson Avenue near I-465 on or after Wednesday. A crew will be locating utility lines in the area between 9 a.m. and 1 p.m.
Nighttime SR 37 northbound and southbound lane closures between Fairview Road and Belmont Avenue are expected to end mid-week. Crews will work behind temporary concrete barriers after installation for temporary paving along the northbound lanes. No shoulder will be available, and lanes may appear narrower due to the adjacent barrier. Use extra caution.
Watch for increased I-465 traffic with the closure of the I-65/I-70 North Split.