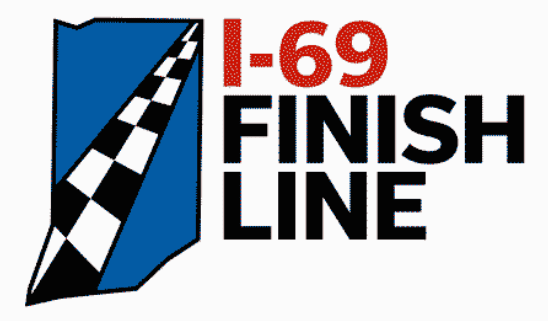 I-69 Finish Line Look Ahead – November 25, 2022
Roadways in Martinsville are at permanent speed limits. Temporary lane restrictions may occur for final items.
Northern Morgan County
Speed limits on SR 37 are currently at 55 mph from SR 44 to SR 144.
The intersection of SR 144 at Waverly Park Road/Old Port Royal Road/Old SR 37 has a temporary traffic signal.

The Banta Road traffic signal is expected to be removed on December 1 or 2. The SR 37 and Banta Road will close.

Emergency vehicle crossovers are south of Waverly Road, north of Stotts Creek, and between Teeters Road and Myra Lane.
Johnson County
Access from SR 144 to southbound SR 37 is closed into December. All other SR 144 ramps are open.
Emergency responders should meet at the following locations for escort onto the jobsite:

Rally Point 1 is at SR 37 and Fairview Road.
Rally Point G is at SR 37 and SR 144.
Rally Point H is at SR 37 and Smith Valley Road (CR 900 N).
Marion County
Wicker Road at SR 37 may have daily single lane closures through next week between 8:30 a.m. and 5 p.m.
The new Southport Road interchange is open. Click here for a short video showing aerial video of the new alignment and illustrations of access routes at S.R. 37 and Southport Road. This configuration will remain until mid to late December.
Epler Avenue west of Belmont Avenue is closed until next spring. The local detour follows Concord Street, Banta Road, and Harding Street. Epler Avenue east of Belmont Avenue will remain open.
SR 37/Harding Street traffic restrictions continue until on or before December 2 for waterline work. There are lane restrictions on the following roads: northbound SR 37/Harding Street between Thompson Road and the Pilot/Mr. Fuel entrances; the I-465 eastbound exit ramp to SR 37; the I-465 westbound to SR 37 exit ramp; and Harding Court.
Eastbound and westbound I-465 between White River and Harding Street may have limited lane closures from 9 p.m. to 5 a.m.
The Carson Avenue bridge over I-465 is closed through 2022. The detour follows Keystone Avenue and Thompson Road.
Emergency responders should meet at the following locations for escort onto the jobsite:

Rally Point 2 is at SR 37 and Southport Road.
Rally Point 3 is at the Kentucky Avenue/I-465 interchange.
Rally Point 4 is at the Harding Street/I-465 interchange.
Rally Point 5 is at the I-65/I-465 interchange.
South Street closure
South Street is scheduled is now closed between Home Avenue, just west of the I-69 overpass, and Ohio Street. This City of Martinsville project involves waterline work, storm sewer installation, and road improvements.