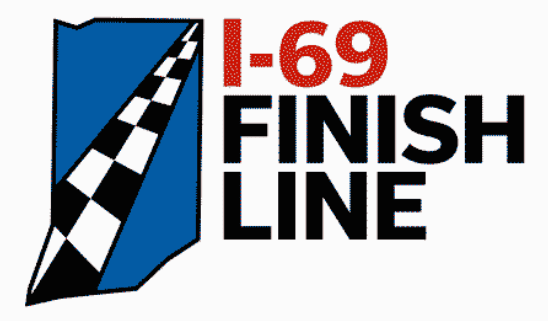 I-69 Finish Line Look Ahead – August 5, 2022 
Martinsville
Next week, there may be northbound and southbound rolling closures each night on I-69 in southern Martinsville for pavement striping.

Ruth Rusie Way is open at Ohio Street. Pavement work on Bobby Helms Boulevard and Bills Boulevard is expected to continue into mid-August.
Northern Morgan County
Morgan Street from the old intersection with SR 37 to Country Club Road is expected to open on or after August 8.
The Ozark Fisheries driveway is currently a right-in, right-out intersection.
A temporary right-in, right-out driveway is open north of Myra Lane for access to the First Methodist Church in Martinsville. The west approach of Myra Lane is still closed.
The Teeters Road and Myra Lane bridges are expected to open on or after August 15.
Old SR 37 (Old Port Royal Road) and Wellington Drive north of SR 144 are closed through late-August. Access to properties north of SR 144 is from Huggin Hollow Road. SR 144 lanes here are ten feet wide through the summer.
Waverly Park Road at SR 144 will remain open while the roundabout is being constructed. A temporary traffic signal on Waverly Park Road is now active.
Emergency vehicles may use the crossovers south of Waverly Road, north of Stotts Creek, and the former Morgan Street intersection to access the opposite side of the highway. Other crossovers are now closed.
Johnson County
The western access from SR 37 to Smith Valley Road is closed. The nearest access to the newly built western frontage road is now at Fairview Road.
Old SR 37 north of SR 144 is open between Huggin Hollow Road and Fairview Road. The portion of the western frontage road between Fairview Road and County Line Road is open. Watch for occasional flagging on the frontage road for incidental work.
Mid-next week, westbound Smith Valley Road at SR 37 will shift from a single lane to two separate lanes for north (right) and south (left) turns.
Mowing crews will be active this week.
Rally Points for emergency responders:
Rally Point 1 is at SR 37 and Fairview Road. Meet here for escort onto the jobsite.
Rally Point G is at SR 37 and SR 144.
Rally Point H is at SR 37 and Smith Valley Road (CR 900 N).
Marion County
The County Line Road dual-roundabout interchange is partially open. The roundabout west of SR 37 provides full access to the southbound entrance and exit ramps and the Bluffdale Drive frontage road. The roundabout east of SR 37 has a temporary off-ramp from northbound SR 37 to County Line Road and a connection to County Line Road and Bluff Road. The northbound access from County Line Road to SR 37 will remain closed until later this year.
There will be lane closures on Southport Road east and west of SR 37 for utility work for up to two weeks. These closures include the eastbound center lane west of SR 37 and the eastbound left travel lane and center shared-left turn lane east of SR 37.
The southern entrance of Aspen Lakes Apartments off South Belmont Avenue is closed. Access to Aspen Lakes Apartments will be limited to the north entrance at Southport Road.
The relocated Belmont Avenue, north of Southport Road, is now open. The new Southport Road intersection is north of the Wellingshire Boulevard intersection.
The Mann Road bridge over I-465 is closed into September. The detour follows West Thompson Road and Kentucky Avenue.
On eastbound and westbound I-465 near Mann Road, Madison Avenue, and from Harding Street to the White River expect localized lane closures nightly from 9 p.m. to 5 a.m. Expect intermittent 20-minute rolling stoppages.
The Madison Avenue bridge over I-465 may have intermittent single-lane closures in the coming weeks.
The Carson Avenue bridge over I-465 is expected to be closed until the end of the year. The detour will follow Keystone Avenue and Thompson Road.

For bridge demolition, there will be nightly 11 p.m. to 5 a.m. closures from the I-65 southbound ramp to I-465 westbound and closures as needed from the I-65 northbound ramp to I-465 westbound.

Rally Points for emergency responders:
Rally Point 2 is at SR 37 and Southport Road. Meet here for escort onto the jobsite. 
Rally Point 3 is at the Kentucky Avenue/I-465 interchange.  
Rally Point 4 is at the Harding Street/I-465 interchange.  
Rally Point 5 is at the I-65/I-465 interchange.  
South Street closure
South Street is scheduled is now closed between Home Avenue, just west of the I-69 overpass, and Ohio Street. This City of Martinsville project involves waterline work, storm sewer installation, and road improvements.