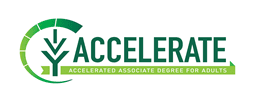 Ivy Tech is excited to introduce Ivy Accelerate, an adult cohort program that helps busy working adults earn their Associate degree or certificate on time.
Students choose whether they wish to earn an Associate degree or Certificate after their first session.  We are offering Cyber Security, Business Administration and Pre-Nursing.  
Possibility to enroll for free through the Next Level Jobs Program.  
Classes will be two evenings a week and program group meetings and activities will be held one Saturday a month.  
This program is similar to ASAP, a program for recent high school graduates.  Like ASAP, interested students must have program-ready test scores, complete the Accelerate application, submit a letter of recommendation/nomination and schedule their interview.  
Ivy Accelerate will begin October 26, with second eight week fall classes.  
For more information, contact Jennifer Rusk, jrusk5@ivytech.edu, and bloomington-ivyaccelerate@ivytech.edu.  Students can also see application materials on the website, ivytech.edu/bloomington/accelerate.