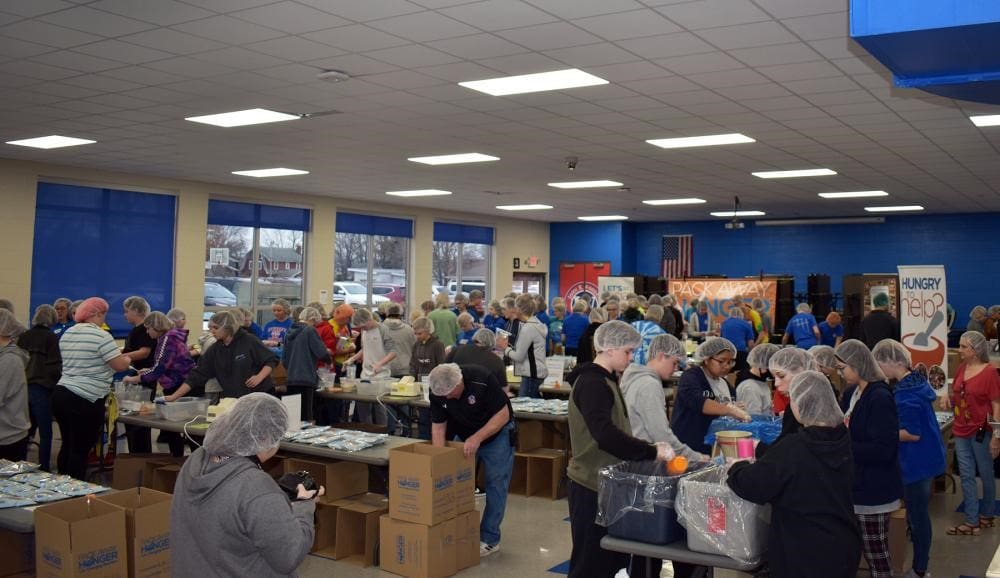 March 24, 2022 – Indianapolis, IN
On Friday, March 18th, more than 100 John R. Wooden Middle School students participated in a unique service program to fight local and international hunger. Through a partnership with Indianapolis non-profit Pack Away Hunger (PAH), students experienced a hunger education curriculum and packed 30,000 meals for Morgan County food pantries. They packed an additional 2,000 meals for Ukrainian refugees.
"Our programs seek to educate the public about hunger and give groups a hands-on opportunity to create nutritious meals for those in need," commented Abigail Harlan, PAH Executive Director. "We're especially passionate about engaging students in the conversation about hunger in their world and empowering them to be a part of the solution."
During the program, a PAH staff member led 30 minutes of hunger education, followed by two hours of meal packing. Students worked together in assembly-line style to create nutritious meals made of rice, soy, vegetables, and vitamins and minerals.
The event was orchestrated by Christa Mathews, a science teacher and extracurricular leader at the school. "We are thrilled that our students had a hands-on opportunity to fight hunger right here in Morgan County," she commented. "They were honored to help pack even more meals to support Ukrainians affected by the war."
The education program and meals for Morgan County food pantries were generously sponsored by a grant from the Community Foundation of Morgan County. The meals packed for Ukrainian refugees were made possible by donations from Pack Away Hunger supporters. Jessica Schwarz, Community Development Officer for the Community Foundation of Morgan County participated in the event and shared her personal connection to Ukraine, after serving in southern Ukraine in the Peace Corps two years ago.
"Nearly 12% of Morgan County residents face food insecurity, including more than 2,300 children," she commented. "It's important for our youth to understand that they can be a part of solutions as they grow up and see various needs in their neighborhoods and amongst their peers. Change starts with one individual realizing they can make a difference. Together, we forge positive progression county-wide."
# # #
Pack Away Hunger is an Indianapolis-based non-profit dedicated to eliminating hunger in Indiana and around the world through nutritious food, education and service. Through partnerships with like-minded organizations, they pack and distribute the highly nutritious Nutri-Plenty® Meal to local food pantries and at-risk communities in developing nations.