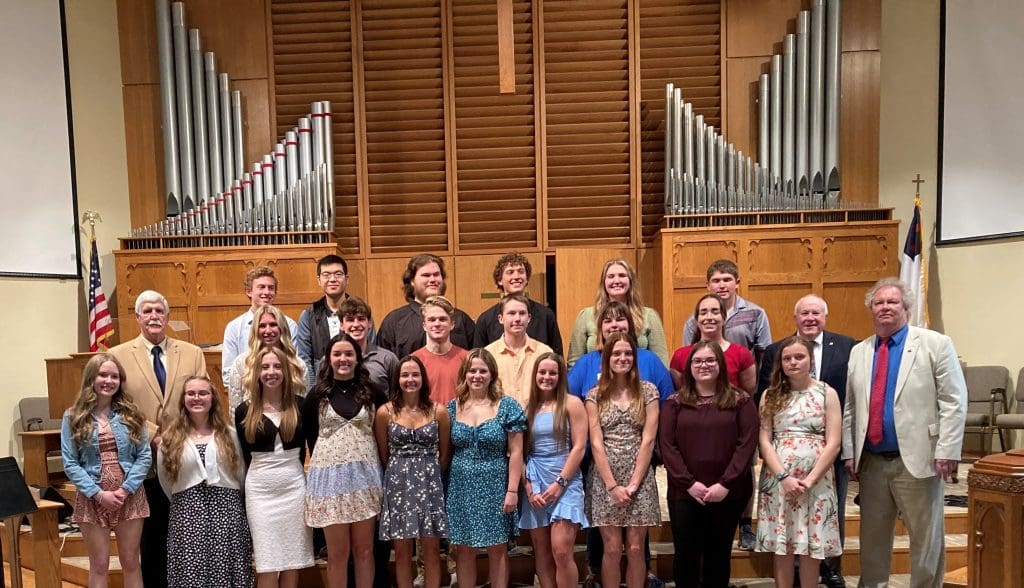 On Monday, May 15, Martinsville Kiwanis sponsored a Recognition Banquet at the First United Methodist Church for Martinsville High School's top twenty-five graduating students.  Kiwanis president, Keith Buetow, welcomed students and their guests.  Following the welcome dinner prepared by LIsa James of Heavenly Helpings, was served.
After dinner, the evening's program began with the Pledge to the Flag and the singing of America led by Buetow and Mike Hankins.  Hankins then told how Kiwanis, which began in 1948, has been sponsoring this banquet for the top twenty-five students for fifty-nine years beginning in 1964.  This year's Top 25 were praised, not only for their academic excellence but also for their extracurricular involvement.  For example, members have been involved in sports, academic teams, the arts, clubs, etc. He then paid tribute to a very active past member, Ron Bell, whose son, MHS principal Jeff Bell, was then introduced as the evening's speaker.
Bell applauded the students for their academic achievement, but then challenged them to "Go for it!"  He stressed they should believe they can do great things.  Students were told to never give up after a disappointment but to bounce back till they show the world what they can do.  Bell also stressed they should get involved now in serving others because it is "cool to serve."  Lastly, he noted they should never forget  Martinsville and all of those who helped them have this very successful start in life.   
Hankins then introduced the top twenty-five students, and Buetow presented each one with a "scholastic achievement" pin.  Students introduced their guests, gave their plans for next year, and shared their inspiration for doing so well in school.  These students were Aaron Anderson; Kara Atkins; Elise Baker; Marissa Boler; Lillianne Boyd; Macey Cain; Maci Dorsett; Jackson Hayes; Jade Johnson; Fallon Jones; Ainsley Lowder; Jaxon Mathews; Hanna Niese; Ian Nuckles; Hayley Parker; Brianna Payne; Logan Phelps; Ryan Pilat, valedictorian; Cassandra Smith; Molly Urban, salutatorian; Nathaniel Viewegh; Maggie Watkins; William Wise; Jack Wolff, Hong Yu Wong; and Kevin Huang.