Martinsville Chamber May Luncheon
Friday, May 19th, 11:30 am – 1:00 pm
Morgan County Admin Building, 180 S. Main St.
Join us as we learn more about the total solar eclipse happening in April 2024!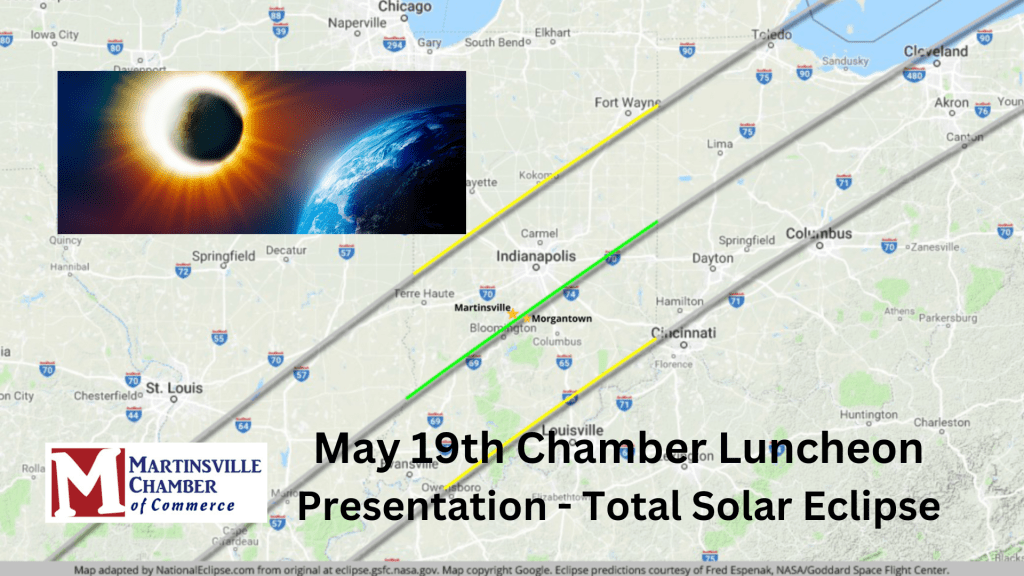 Did you know that there will be a total solar eclipse on April 8th, 2024? Central Indiana will be an area where there will be a longer duration of actual totality, so we expect to welcome many visitors the weekend prior and on the day of the eclipse. Planning ahead is critical and we know just the person to help us get started on the right foot!
Our guest speaker at our May 19th luncheon will be Barrett S. Caldwell, Ph.D., FHFES, FIISE – Professor of Industrial Engineering and Aeronautics & Astronautics & Director, NASA Indiana Space Grant Consortium, Purdue University. Please join us to learn more about this amazing natural event, how we, as a community, might take advantage of this opportunity by hosting special events, marketing our businesses, and having fun, AND how we plan for the anticipated large influx of visitors.
Please help us get the word out about this important presentation and invite a friend or colleague to join you.
Lunch is just $10 and will be available on a first come-first served basis.
**Donations of door prizes are welcomed and great exposure for your business.**