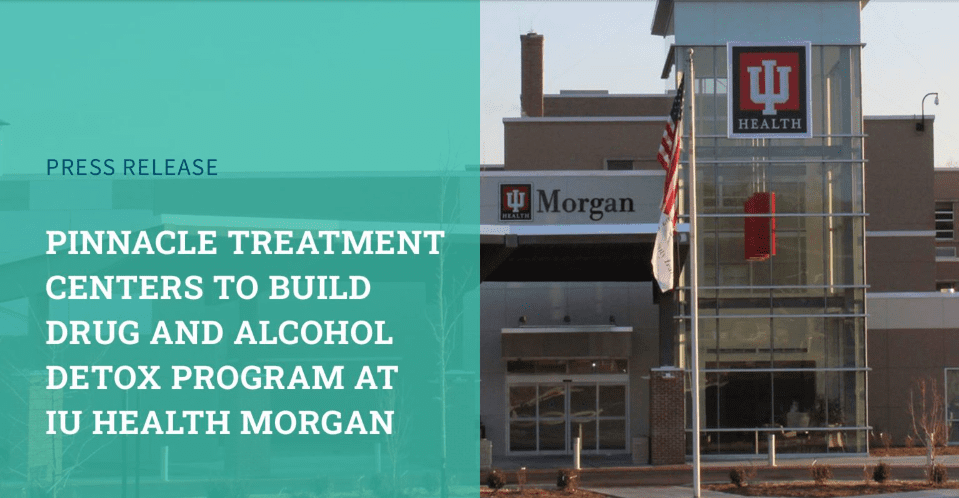 MARTINSVILLE, Ind. – July 7, 2022– Pinnacle Treatment Centers, a leader in providing affordable, accessible treatment for adults struggling with substance use issues, is jumpstarting the development of a withdrawal management (detox) unit at Indiana University Health Morgan in Martinsville, IN.
Pinnacle's unit, named Recovery Works Morgan, will be dedicated to comprehensive care for patients needing assistance with drug and/or alcohol addiction.
"It is an honor to collaborate with such a prestigious healthcare system that is so integrated with the community," said Joe Pritchard, CEO of Pinnacle Treatment Centers and an individual in addiction recovery for nearly 47 years. "This new component of our care continuum will allow for addiction recovery to begin immediately and seamlessly when an individual is in crisis and wants to get help."
Jason King, DNP, RN, CENP, FAONL, chief operating officer and chief nursing officer at IU Health Morgan, said, "IU Health wants to make Indiana a healthier state, and mental health and addiction recovery are an integral part of that goal. This collaboration will bring a welcomed addition to healthcare in Morgan County, and our surrounding communities."
Recovery Works Morgan will span more than 16,000 sq. ft. on the third floor of IU Health Morgan, located at 2209 John R. Wooden Drive in Martinsville. The unit will consist of 32 beds for adults and provide traditional detox, care coordination, and long-term recovery planning.
Patients may choose to be admitted to this program after initially presenting themselves in distress at any of IU Health's emergency departments or other providers within the community.
After discharge from Recovery Works Morgan, patients will be able to continue treatment nearby at Recovery Works Martinsville, Pinnacle's new comprehensive addiction treatment campus.
Construction at IU Health Morgan is slated to begin in July with the program opening by end of 2022. The architect for the project is C.R. Stone, Architect and the contractor is Pepper Construction of Indiana.
Anyone needing addiction help can call Pinnacle's 24/7 Access Center at 800-782-1520.
About Pinnacle Treatment Centers
Headquartered in New Jersey, Pinnacle Treatment Centers is a recognized leader in comprehensive drug and alcohol addiction treatment serving more than 35,000 patients daily in California (Aegis Treatment Centers), Georgia (HealthQwest), Indiana, Kentucky, New Jersey, North Carolina (Stepping Stone) Ohio, Pennsylvania, and Virginia. With more than 125 community-based locations, Pinnacle provides a full continuum of quality care including medically-monitored detoxification/withdrawal management, residential treatment, partial hospitalization and intensive outpatient programming with recovery residences, general outpatient services, and outpatient medication-assisted treatment (MAT) for opioid use disorder. For more information, visit pinnacletreatment.com.
About IU Health
Based in Indianapolis, Indiana, with dozens of facilities statewide, Indiana University Health is Indiana's most comprehensive healthcare system. A unique partnership with Indiana University School of Medicine, one of the nation's leading medical schools, gives patients access to leading-edge medicine and treatment options that are available first, and often only, at IU Health. For more information visit iuhealth.org.