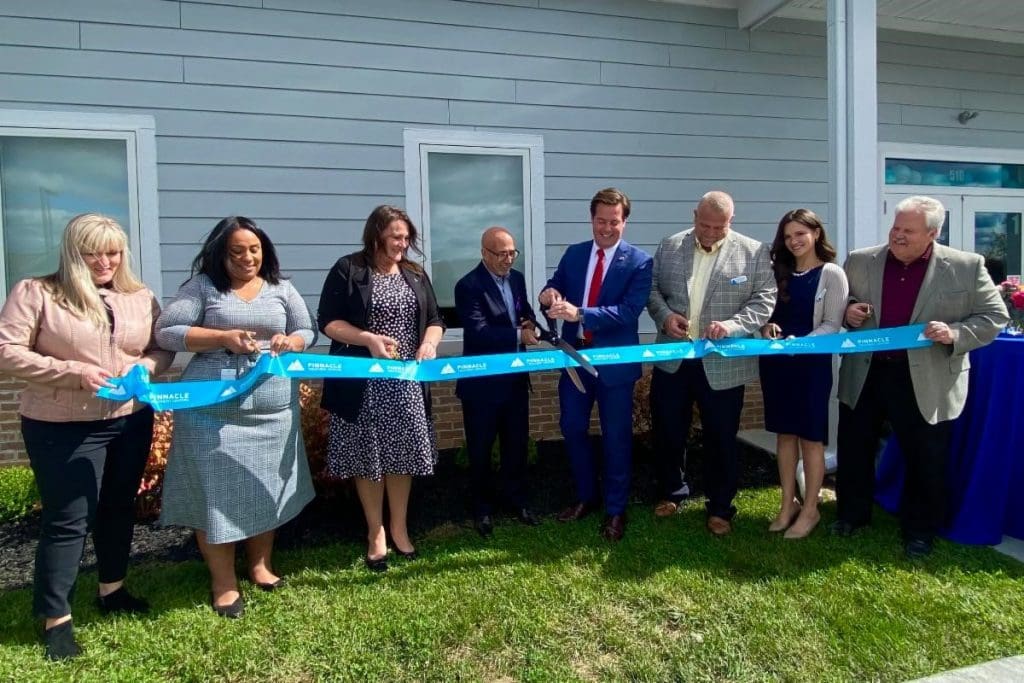 The leadership of Pinnacle Treatment Centers hosted a ribbon cutting ceremony at Martinsville Treatment Services in Indiana last month with state officials, community leaders and organizations, area healthcare providers, and others.
The ceremony was emceed by Chris Byers, Regional Vice President, Pinnacle Treatment Centers, and featured remarks by Douglas Huntsinger, Indiana's Executive Director for Drug Prevention, Treatment and Enforcement, and Joe Pritchard, CEO, Pinnacle Treatment Centers.
Rick Miller, Executive Director, Stability First, provided a blessing of the building.
Following remarks, attendees participated in a candlelight moment of silence to commemorate National Recovery Month and honor lives lost to overdose and the disease of addiction. Attendees also had the opportunity to color and share messages of encouragement for patients on a large Recovery Canvas of Hope, which is being hung in the center.
This is Pinnacle's first opioid treatment program (OTP) in the state, rounding out a full continuum of care at its Recovery Works comprehensive addiction treatment campus in Martinsville, which opened earlier this year.
Believed as the first in the country to offer all levels of care on one campus, Recovery Works provides acute psychiatric stabilization for individuals with co-occurring substance use and mental health issues; inpatient withdrawal management (detox); residential treatment; partial hospitalization programming with nearby supporting housing; intensive outpatient and general outpatient programs; and now an opioid addiction treatment center. In addition, Pinnacle announced this summer plans to build a 32-bed detox unit at IU Health Morgan just down the street from Recovery Works, all part of Pinnacle's mission in Indiana to expand and offer care where it's needed most. Pinnacle operates two other Recovery Works drug and alcohol addiction treatment programs in the state, in Cambridge City and Merrillville.