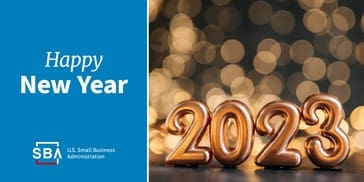 New Year, New Business – How to get started webinar
When: Jan 23, 4 pm ET
Where: Online
About this event:
Whether you have an idea of your own or want to start a franchise the SBA and our resource partners can help you on your journey. During this webinar you will find out:
what it takes to be a small business owner
what and why you need a business plan
how to properly file & register your business
the importance of business banking
You'll also find out the various funding options that the SBA guaranty loans can provide from $500-$5.5M.
Registration is required. Webinar links and reminders will be emailed. You can also access the webinar on the day of the event by typing https://bit.ly/NewyearNewBiz12323 into your web browser. See you there!
Questions?  Contact SBA Indiana Lead Outreach & Marketing Specialist Sharon Harvey at sharon.harvey@sba.gov.