Spotlight On…Martinsville
MONDAY, DEC. 12 | 8:30 – 10 A.M.
190 N. Sycamore St. Martinsville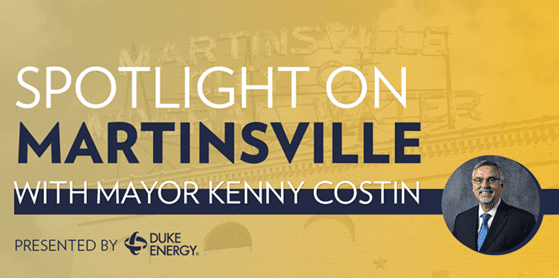 The Spotlight On…Series, presented by Duke Energy, was created to help attendees get to know the communities of the Indy region. Each installment showcases a different community within Indy's nine-county region, shares key happenings, and connects priority projects across community lines.

The Indy Chamber invites you to the next installment of this event, the Spotlight On…Martinsville, featuring Mayor Kenneth Costin. Mayor Costin is a long-time Martinsville resident, and before beginning his first term in 2020, he served the Martinsville community in a number of roles. On December 12, we'll get an exclusive look into the city's latest developments, including its growing housing opportunities, the new performance venue, and the economic impact of I-69 being open.

The Spotlight On…Martinsville takes place in person at Art Sanctuary Indiana in Martinsville from 8:30 to 10 a.m. in partnership with the Martinsville Chamber. We invite you to arrive early to participate in opening networking and enjoy a continental breakfast provided by Sara's Goodies before the conversation begins at 9 a.m.

This is a free event but pre-registration is required. Limited space is available.