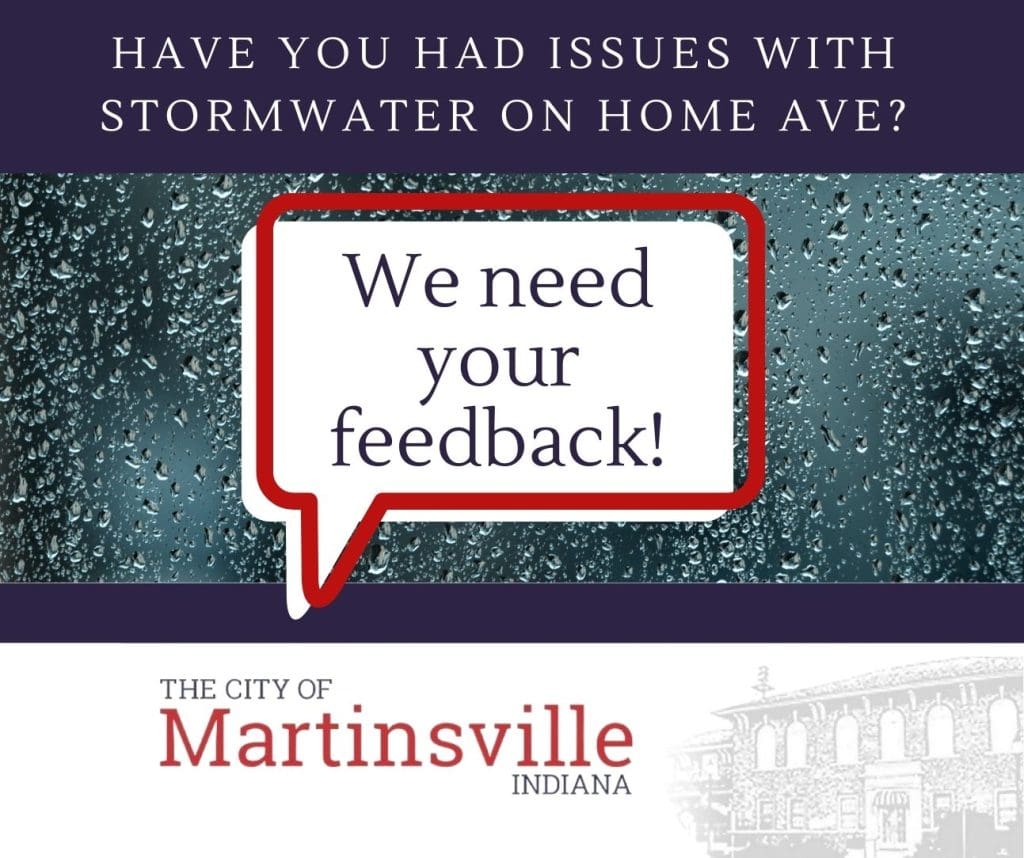 Do you drive through deep water on Home Avenue when it rains? Live along Home Ave. and have issues with your washer draining or toilet flushing any time a storm hits? Has stormwater on Home Avenue impacted traffic on your way to Martinsville High School, Bell Intermediate School, or Smith Fine Arts Academy? Tell us about your stormwater issues along Home Avenue at: https://www.surveymonkey.com/r/Martinsville_Home_Ave_Storm
The City of Martinsville will be applying for a grant from the Office of Community and Rural Affairs to assist in enhancing the city's infrastructure to improve existing stormwater drainage collection and conveyance along Home Avenue. The new
infrastructure will be connected to existing storm outlets that ultimately discharge to Sartor Ditch to the east and will strategically add additional inlets and storm sewer piping to underserved areas.
Community input is needed to determine the residential impact of this Stormwater System Improvement project in the City of Martinsville. Your answers will assist in demonstrating to the Office of Community and Rural Affairs the need for this project. If you responded to a similar survey in April or May, you can submit your concerns again as responses will be merged.
The City of Martinsville is aware there are additional areas in town with drainage issues and is seeking solutions for those problems as well. This feedback request specifically relates to a grant opportunity for Home Avenue as it is a primary road near three of our schools.
Please complete the short survey at https://www.surveymonkey.com/r/Martinsville_Home_Ave_Storm