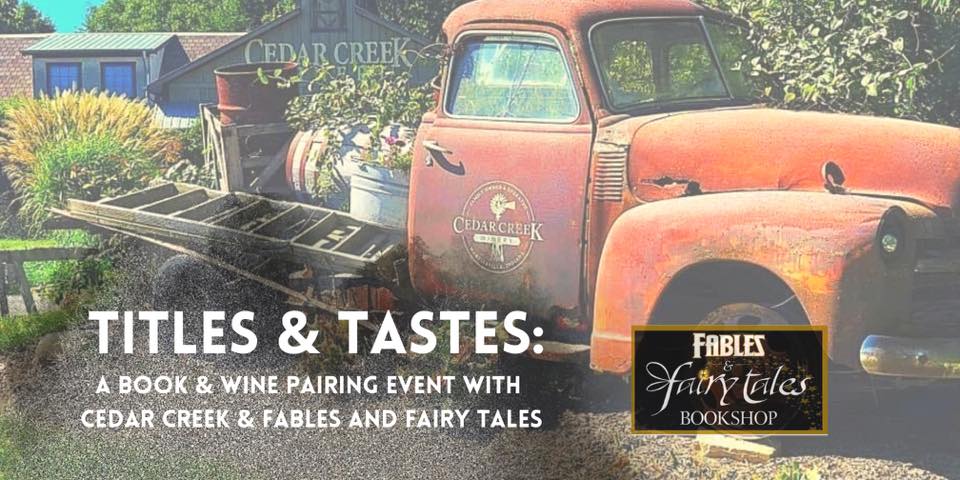 Join us on Thursday, October 26 from 5:00 pm – 7:00 pm for an intimate evening of wine tasting and shopping for some of the newest books on shelves. Your ticket will include a glass of Cedar Creek wine (or beer)and appetizers paired with books handpicked by Fables and Fairy Tales. Cedar Creek Winery & Eatery staff will be available for additional food and wine purchases not included in this ticket. Fables and Fairy Tales will also have an assortment of blind date books and other popular reads on hand for purchase! As always, one free wine tasting (5 (one-ounce) pours) will be available from Cedar Creek Winery.
This event will take place at the beautiful Cedar Creek Winery located at 3820 Leonard Rd., Martinsville, Indiana.
Tickets are limited for this event, so grab your spot now!
*Tickets are $27.50 a person which, includes a glass of Cedar Creek wine (select varieties) and appetizers. Fables and Fairy Tales will be pairing books and wine for additional purchase. All attendees will have their ID checked upon arrival. Please have a digital or paper copy of your ticket for the event. A wood token or coupon at check-in will be provided to be redeemed for your glass of wine included in the ticket.