The State of the City Dinner is held annually in the spring to honor the City of Martinsville and the many individuals, businesses, and organizations that contribute to the economic growth and development of our community. Along with Mayor Kenny Costin's interview, the Outstanding Business, Outstanding Business Professional, and Ruth Rusie Spirit of Service awards were presented. What an impressive trio, all three very deserving of their respective awards!
**Videography courtesy of Home Bank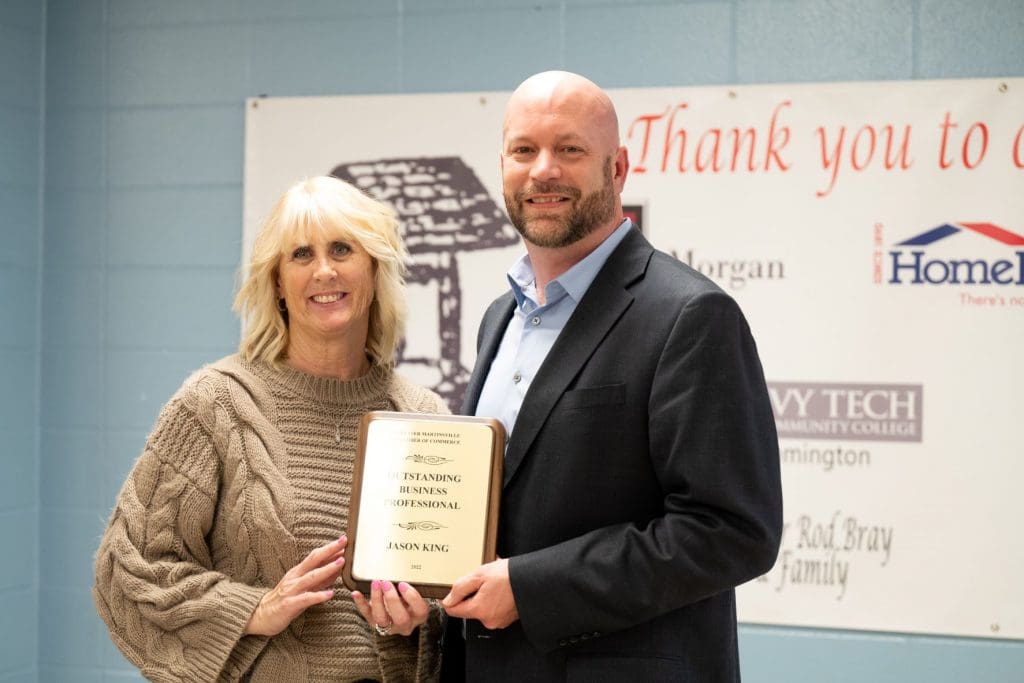 **All photos courtesy of Mike Washington with MWPImages.
OUTSTANDING BUSINESS PROFESSIONAL – JASON KING COO, CNO IU HEALTH MORGAN
"This award recognizes a businessman or woman who demonstrates outstanding achievement and excellence in his/her business or profession, as well as business, social, and community involvement.
This year's award winner is known for their skill at building relationships through harmony and positivity. They are known for having the talent to develop in others the ability to set realistic goals to help them achieve their maximum potential. They are a member of among many things the Morgan County Economic Development Corporation Board, and the Morgan County I69 Aesthetics Committee. To read anything more about this person would be impossible to do without giving away who they are so I'll end with this. When Morgan County faced a gap in ambulance services, he stepped up and brought IU Health resources to the table to cover the county during that time."
OUTSTANDING BUSINESS – RESIDENTIAL DESIGNS BY BRAD ROE
"The Outstanding Business Award recognizes businesses in or around the city of Martinsville for noteworthy accomplishments, long-standing contributions to the community, and significant community service efforts.
The person who nominated our Business of the Year said that this person is someone everyone should strive to be like both in the business world as well as personally. They've helped raise money for The Toy Drive, The Food Drive, The Kentucky Tornado Drive, and many more. When this person found out an employee at a nearby business had a family member pass away around the holidays they checked in to see if the family needed money or presents for the kids or groceries. The nomination form states that this person is a pillar of the community. They are someone who always brightens the day for others by just a simple wave."
RUTH RUSIE SPIRIT OF SERVICE AWARD – JUDY MOORE
"This coveted award recognizes an individual for outstanding contributions in the way of volunteering, giving, fundraising, mentoring, or caring in the community. The Ruth Rusie Spirit of Service award is named for Ruth Rusie of Martinsville, IN for her inspiring volunteer achievements and outstanding commitment to community service.
Since Ruth passed away on December 31, 2021, I felt it only appropriate to take a moment to remember Ruth Rusie, and may this serve as a reminder of the special person that she was. If you're new to the community or never knew Ruth I hope this brief synopsis gives you a glimpse of who she was.
Ruth Louise Ritz Rusie was 103 years old when she passed on the last day of the year 2021. Random fact, Betty White passed away the same day. Ruth was born in 1918 and attended DePauw where she met the love of her life and future husband H Robert Bob Rusie. Bob and Ruth started a family while living in Sacramento, CA during the war and then moved to Bob's hometown Martinsville Indiana where she lived until her later years.
Bob and Ruth raised three sons in Martinsville – James, David, and John. She was a loving and devoted mother who also found time to teach for the MSD of Martinsville on and off for 20 years. When her sons were grown, Ruth enrolled at Indiana University where she earned a master's degree in reading education. Shen then took the position of head of reading instruction for the elementary schools for Martinsville. Ruth's passion for volunteering grew during retirement and was driven by her belief that "If we are not on this earth to help others, why are we here?"
Ruth took her love for reading and helped start the Morgan County Coalition for Literacy to help her community better serve those who had not learned to read. For a person who was short in stature, her devotion to her community made her a larger-than-life presence. Her joy in helping others was so infectious that others could not say no to Ruth when asked to help, whether it be to help with Community Concerts, fix meals for Habitat for Humanity, or to sign up to be a reading buddy in one of the local schools.
I could go on listing her achievements and involvements in various endeavors around the community but I'll end with this. Her faith and belief in Jesus' commandment to love your neighbor as yourself guided her throughout her life and she lived her life of giving with grace, a wonderful sense of humor, compassion, and love for her family, her church, and her community.
Let's show our appreciation for the life and legacy of Ruth Rusie."