For over 12 years, Inspire Results Business Coaching's "Growth Plan Workshop" has helped business owners get their operating plans on a single sheet.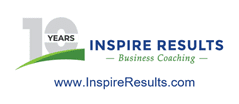 Join us again on Thursday, Sept 29th, 2022, 9a-3p
Holiday Inn – Indianapolis Airport
8555 Stansted Road, Indianapolis 46241
Virtual option available
In this fast-paced session, business owners discover the potential in their business by completing a Single Sheet Business Plan. Then, they break it into quarterly, monthly, weekly, and daily goals, getting a line-of-sight from daily tasks to their 10-30 year purpose.
Led by local business Coach Roger Engelau, business owners step out of the day-to-day business for just 1 day, get organized, complete a prescribed planning process, and walk away with an action plan that leads to greater profits and free time back.
For owners of small to mid-size businesses in any industry. Register early for $297 Early Bird price, $397 after. (Includes the popular taco bar)! FREE to Inspire Results Business Coaching clients.